National Respiratory Care Week took place Oct. 22-28, and respiratory therapists from all over the globe used the occasion to raise awareness about respiratory health and the clinicians who play such an integral role in the health and well-being of people with respiratory conditions. Here's a brief look at some of their celebrations.
Winchester Medical Center
Winchester, VA
Winchester Medical Center's respiratory therapy department celebrated all week long with raffles, meals, and a delicious cake made by one of their case managers. They also received t-shirts reminding them to "Just Breathe." And finally, they said "congratulations" to Josh Berg (center in photo) for successfully passing his ACCS exam.
Sheikh Khalifa Medical City
Abu Dhabi, UAE
The respiratory therapy team at Sheikh Khalifa Medical City (SKMC) in Abu Dhabi, UAE celebrated #RCWEEK17 with CME-accredited respiratory lectures, education booths for asthma and COPD, free spirometry tests, a 'Respiratory Jeopardy' game, and intubation and bronchoscopy practice stations. SKMC is home to a multicultural department with RTs from the U.S., Canada and Philippines. They also made a song, "Let Me Help You," which can be viewed YouTube.
Laurel Technical Institute (LTI)
Sharon, PA
Respiratory students from the Laurel Technical Institute (LTI) started the week off working with their new lab equipment. Later they visited the Shenango Valley Senior Center in Hermitage, PA, as well as St. Joe`s at the mall in Warren, OH, where they educated community residents regarding lung health, smoking cessation and respiratory medicine education. The students also performed vitals and Spirometry screenings.
Rahe Bulverde Elementary School
Bulverde, TX
Helen Sorenson, MA, RRT, FAARC from the University of Texas Health Science Center in San Antonio, TX took part in the Rahe Bulverde Elementary School Career Day. Sorensen performed pulse oximetry on the students, explained the importance of oxygen in their blood, and visited with them about asthma. She discussed some of the triggers that might cause an asthma attack and the importance of taking their medicine.
Straub Medical Center
Honolulu, HI
Straub Medical Center, an affiliate of Hawaii Pacific Health, celebrated all week long with fun events and activities for the staff. Activities included acai bowl treats, games and trivia, which culminated on Friday with awards and winners announcements. Staff members also enjoyed a pizza party and a mini 'Sputum Bowl'. On Wednesday, they each took part in a special Respiratory Luncheon.
Royal Commission Health Services Program
Jubail Industrial City, Saudi Arabia
The respiratory care department at the Royal Commission Hospital (Jubail Industrial City, Saudi Arabia) took part, for the first time, in Respiratory Care Week. The event included three booths to raise awareness of the RT profession. A patient education corner provided resources on monitoring and improving lung health for asthma and other respiratory chronic patients. The department team also demonstrated the different equipment and machines used by RTs, and invited students from local colleges and schools.
Children's National Health System
Washington, D.C.
According to Cherise Wilson, MPH, RRT, "it has been another great Respiratory Care Week at Children's National!" Fun activities, food, and CEUs were incorporated into the celebration, all with the goal of increasing awareness–both inside and outside of the organization.
"It's always exciting to share information about the profession with our community," Wilson said. "It was also exciting to receive acknowledgment from D.C. Mayor Muriel Bowser with a proclamation of Respiratory Care Week."
Elliot Hospital
Manchester, NH
Elliot Hospital hosts a Medical Explorers Program where area high school students come and see presentations by different healthcare professionals. For #RCWEEK17, the Elliot Hospital respiratory care department presented information about the profession to the Medical Explorers. The team divided into stations, giving the students the opportunity to participate in various demonstrations, such as CPR, chest physiotherapy, mechanical ventilation, non-invasive ventilation, and airway placement.
School of Health Professions and Wellness
Jacksonville State University
Jacksonville, AL
The respiratory therapy students at Jacksonville State University learned all about V/Q Mismatch, so they kicked off celebrating Respiratory Care Week 2017 with Mismatch Monday.
College of Applied Medical Sciences
King Saud bin Abdulaziz University for Health Sciences
Jeddah, Saudi Arabia
The RT department and students at the College of Applied Medical Sciences at King Saud bin Abdulaziz University for Health Sciences in Jeddah, Saudi Arabia, celebrated #RCWEEK17 by presenting information to other students and the community about the profession and common respiratory diseases. They created a poster and hosted two booths, one at the school and another in one of the biggest malls in the area. The team also provided materials regarding asthma awareness. This was the first time the group took part in this celebration week in western Saudi Arabia.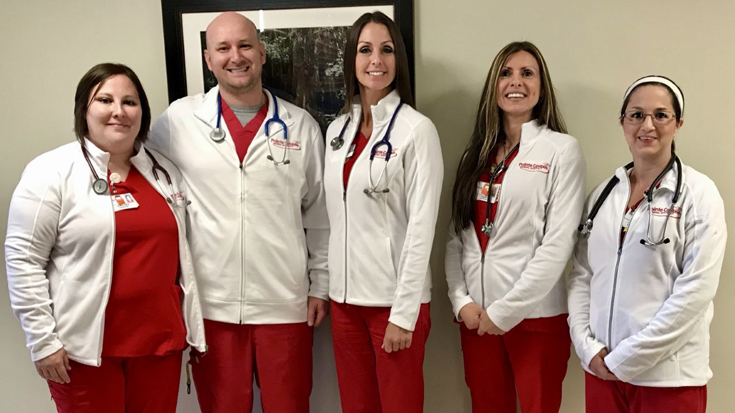 Pointe Coupee General Hospital
New Roads, LA
The respiratory care team at Pointe Coupee General Hospital spent the entire week having breakfast together and special lunch dates every day. The team also used this week to remember their colleague Kayla C. Bonaventure, who passed away two years ago. RC Week was her favorite so the therapists wear red in her honor. This year they added an additional white jacket to celebrate the week and their friend.
Cleveland Clinic PFT Lab
Cleveland, OH
The Cleveland Clinic PFT labs cover a large geographical area in northeast Ohio. Techs from all sites were invited to the main campus for a morning of meet-and-greet activities, as well as team building sessions to celebrate Respiratory Care Week. Their lab manager put forward his best Steve Harvey impersonation to host a PFT version of "Family Feud."
El Camino Hospital
Mountain View, CA
The respiratory Care team at El Camino Hospital celebrated with an information display table filled with resources on respiratory health. They also conducted in-service presentations on current topics, held a first-in-the-country Interventional Pulmonology class, took the entire department out for dinner and hosted the annual RT Olympics. For the RT Olympics, three teams raced through hilariously clever stations, such as "Humidifier Hockey" and "Great Aspirations." This year, staff members also brought their children so they could take part in the fun.
State of Virginia
The Governor of Virginia signed a proclamation declaring Oct. 22-28 National Respiratory Care Week in the Commonwealth of Virginia.
Bradford Regional Medical Center
Bradford, PA
The Bradford Regional Medical Center respiratory team celebrated the week by including an educational display in the lobby, complete with materials on COPD, IPFvsPF, A1TD, and more. They also provided an inhaler technique clinic with spacer and asthma coloring books. Department RTs even visited Bradford Area High School to speak at a senior health profession, as well as Asthma Camp at a local elementary school.